What's MBDGs?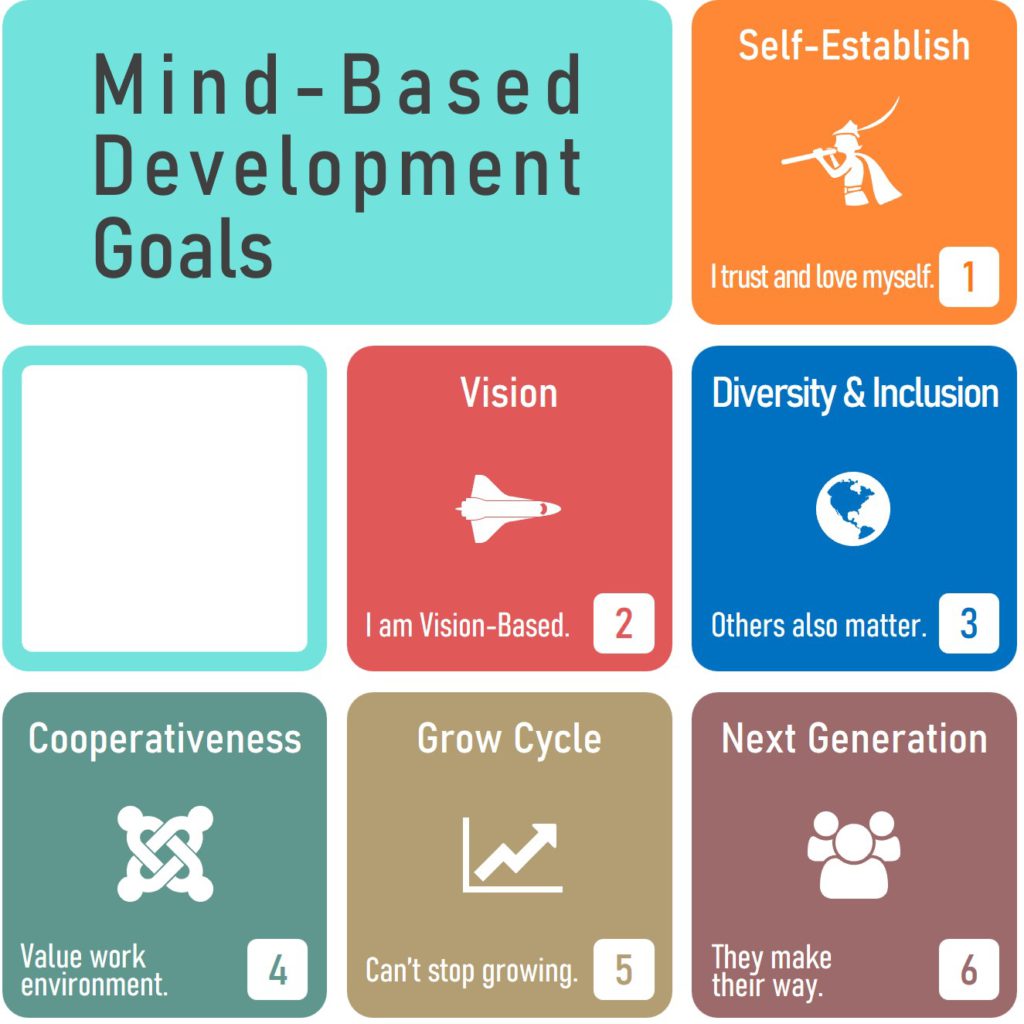 ※Brochure about MBDGs→ Click here
What is MBDGs?
MBDGs stands for Mind-Based Development Goals. This is an educational project to establish the foundation of the mind systematically with six goals to create a better society. It was born from the ideal that the fulfilled stable mind of many people make the real sustainable development, and that development make the society develop sustainably.
This education was created by a lecturer who struggled with the gap between the reality of Japanese education and the ideal for the next generation who will achieve SDGs.
Two quick introduction videos
1.If you're interested in EDUCATION, please check out this↓(4mins)
2.If you're interested in achieving SDGs, please check this.↓(6mins)
6Goals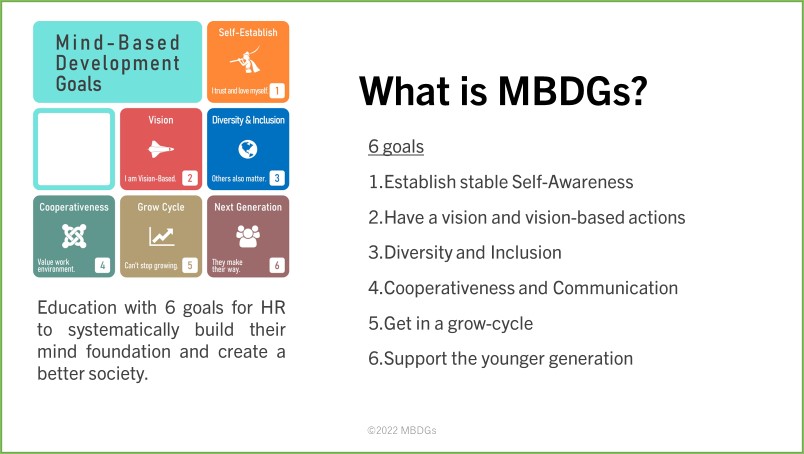 Goal.1|Self-Establish
Establish self-awareness by self-understanding, self-approval, and self-reliant. The goal is to be aware or remember own value and possibilities, and to love and care oneself.
Goal.2|Vision
Have a vision and vision-based actions, if one wants to. Vision contains the happiness of others' too. This can be born from self-awareness established to a certain level.
Goal.3|Diversity and Inclusion
The mind or love to accept and value others can be born only from stable self-awareness well-established by Goal1. Also, the mind and actions to support others' visions can be born from Goal1 and 2. Self-reliant mind can value and trust others or other's values, and this make Diversity and Inclusion achieved at a high level sustainably. Also, cross-cultural understanding can be achieved on the basis of understanding own culture.
Goal.4|Cooperativeness
Cooperativeness with no stress and positive communication can be born from the mind well-established by Goal1-3.
Goal.5|Grow Cycle
Get oneself in a Grow-Cycle by self-questioning habit and finding causes in oneself. This cycle is gainable by well-established mind.
Goal.6|For the next generation
Support the next generation to find their way and achieve SDGs.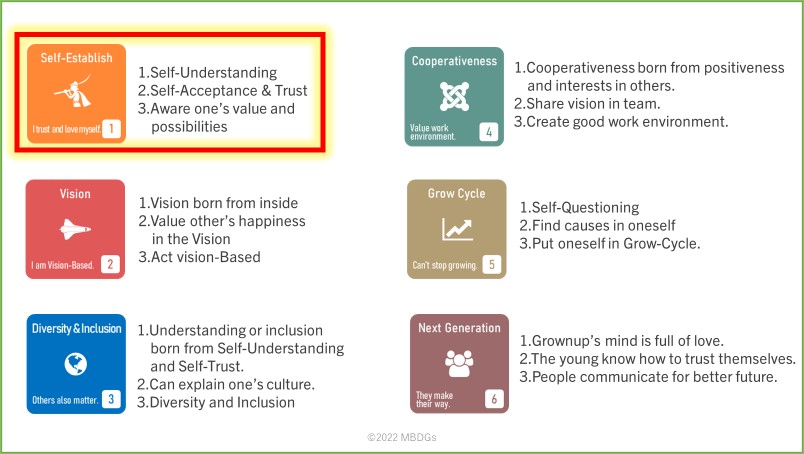 People who are in a state where diversity can come and go freely, and acceptance and love are widespread are more likely to make a good use of their abilities. We believe that when buried individuality and neglected abilities are put to use, a society that is easy for everyone to live in will be born.
In order to develop a sustainable society, we believe that it is important to spread activities and businesses with an essence of the mind born from the six goals. "Accepting and supporting others" can only be achieved stably with the mind established by the six goals. For those who are aware of their value and potential, understanding and accepting others is quite natural.
What can be solved if the 6 goals are achieved?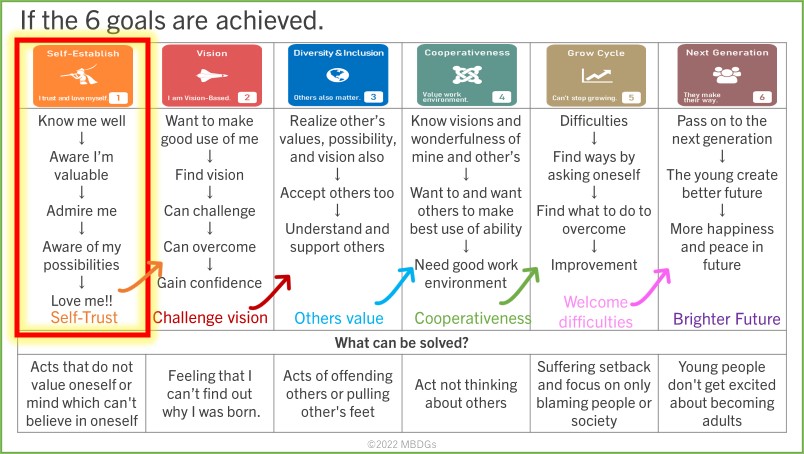 MBDGs mind education can solve…
the acts that don't value oneself or the mind which can't believe oneself.(Self-Establish)
the feeling that "I can't find out why I was born."(Vision)
the acts to offend others or pull other's feet.(D&I)
the acts not thinking about others.(Cooperativeness)
suffering setback and focusing on only blaming people or society.(Grow-Cycle)
young people not getting excited about becoming grownups.(For the next generation)
MBDGs aim to be a help to solve the problems caused by unstable self-establishment, such as…
A society with low acceptance for others
Young people's low motivation about career and lack of social participation
Regional resistance to the acceptance foreigners and coexistence with foreigners
Motivation of workers that doesn't reflect the good results of work environment reform
Accepting diversity with knowledge alone
The constitution of organizations that do not fully utilize diversity, such as foreign human resources
Increasing number of suicides
Foundation of the mind established by MBDGs.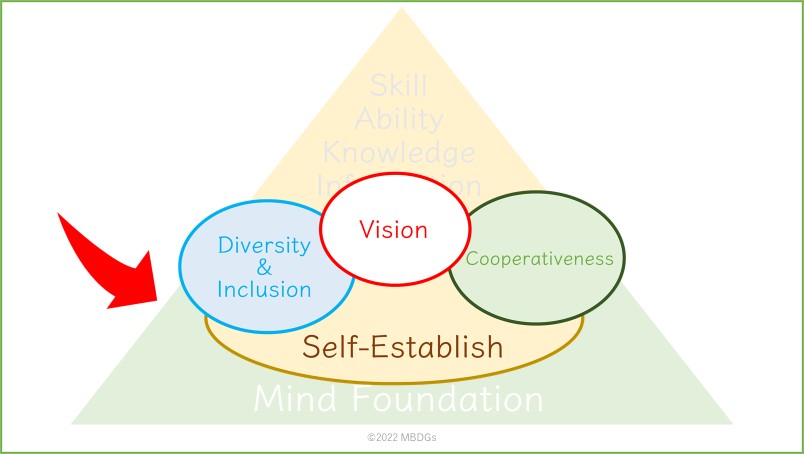 What is built through MBDGs mind education based on the six goals is an important "mind foundation" for human resources who support sustainable development. If the mind foundation is built to a certain level, people can make the good use of their skills, abilities, information, network, and so. It is just like that if the ground condition is enough solid, even a big building can be built on it. Solid ground is the mind foundation, and the big building is the skills or abilities. To maximize the effects of using skills or abilities, well-established mind foundation is vital.
Relationships of SDG, ESD, and MBDGs.
About the relationships with SDG, ESD(Education for Sustainable Development), and MBDGs.
SDGs can be achieved by people.
People can gain the abilities to achieve it by ESD education.
ESD can be effective by positiveness of people.
Positiveness can be born from the mind.
Mind can be established by MBDGs mind education.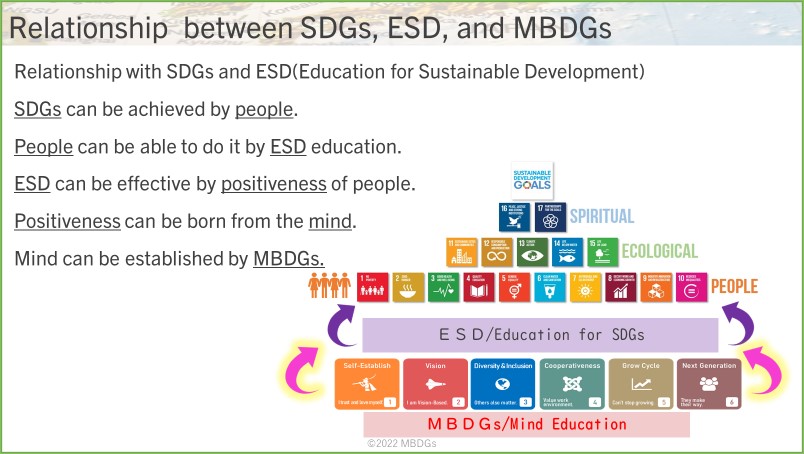 ESD is to gain abilities, and MBDGs is to establish the mind to gain abilities effectively.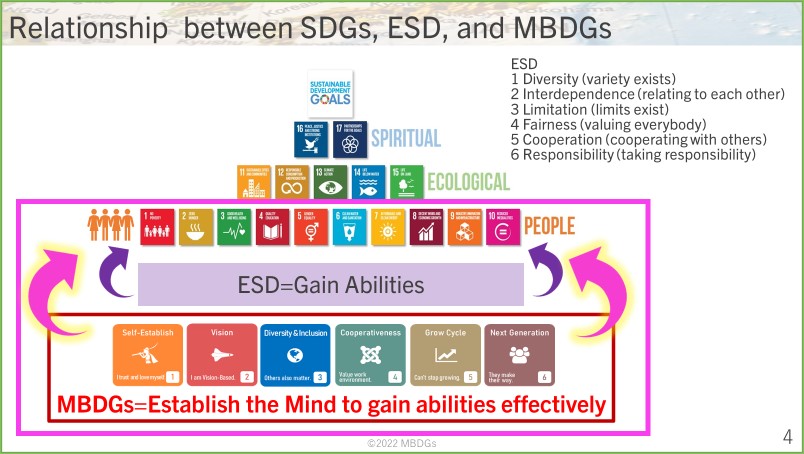 ESD educational trials such as valuing others, relating each other, communication, or D&I, can't always turn to success. One of the reasons is the foundation is skipped, and cram knowledges or take actions only.
Stable Positiveness and creativity
Improving the HR system or working environment are not the only way to boost the workers' positiveness or satisfaction. In order to increase productivity, it is necessary to establish the mind of each individual.
The graph below shows the workers' motivation didn't reflect the good results of working environment reform in Japan.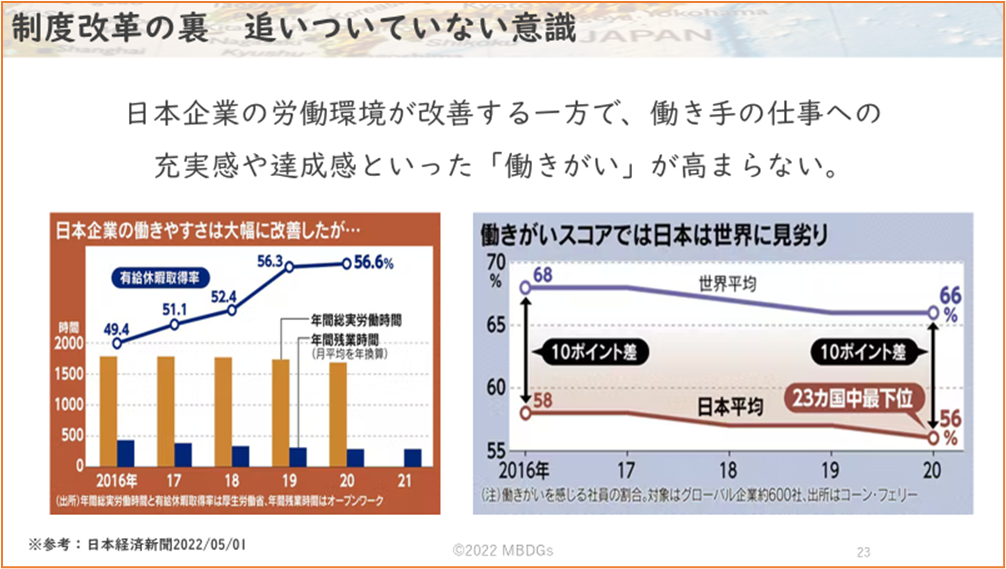 Stable positiveness or creativity can last only when they are born from the mind.
Now that sustainable development has begun to be emphasized around the world, the mind conditions of the human resources who support it will become even more important. MBDGs education supports the systematic mind establishment of those who support the SDGs.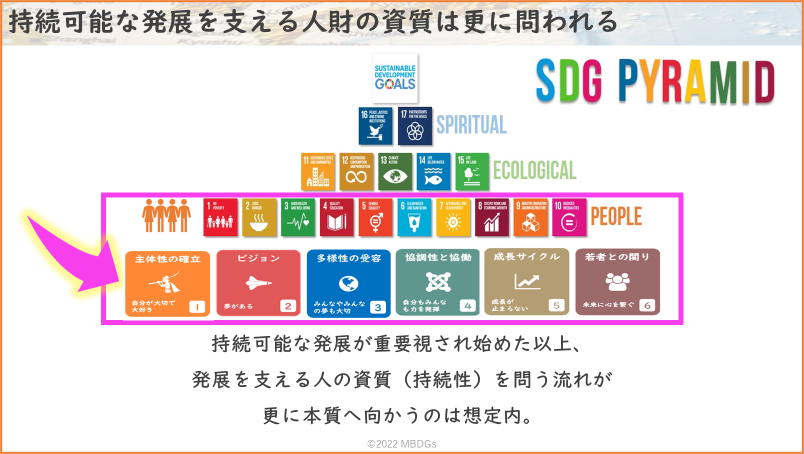 Vision/Mission/Goals
MBDGs Vision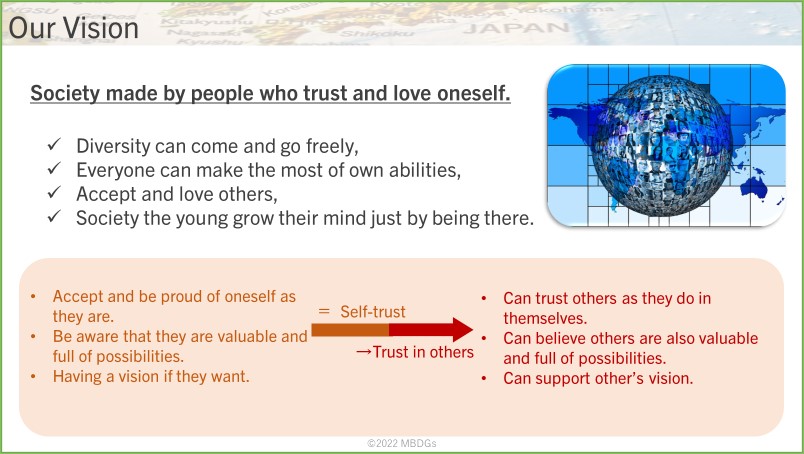 The vision of MBDGs is "A world created by self-reliant people" with the states below.
1.Many people around the world…
・accept oneself and value one's worth,
・be aware of own value and possibilities,
・and have a vision if they want to.
2.Above leads to…
・accept others and value others' value,
・can trust others' value and possibilities also,
・and can support others' vision.
3.Above leads to the society where…
・diversity come and go freely,
・many people make the good use of their abilities,
・acceptance of others and love to others are spreading,
・and conflictions turns to co-creation, co-existence and co-prosperity.
Mission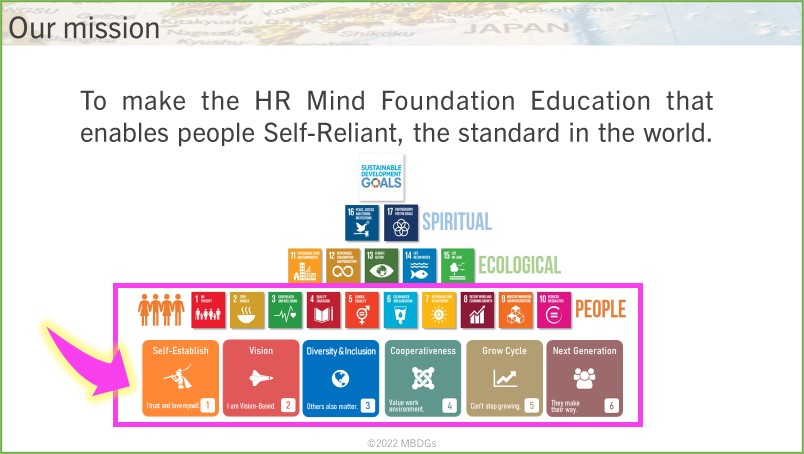 Make human resource mind education that springs up independence and positiveness that creates self-trust a common sense for education.
 
Goals
Educational activities worldwide
Certified MBDGs trainers deliver education Independently
Establish an educational fund to support mind education throughout the world
MBDGs activities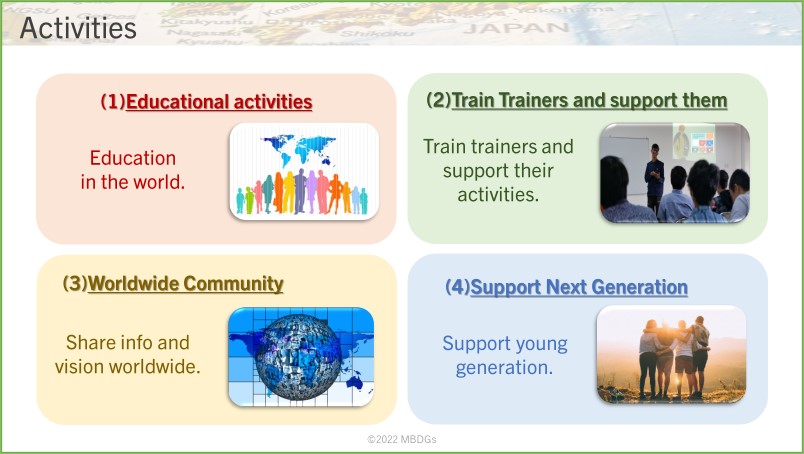 Activities
(1)Deliver education and educational support worldwide
 ①Deliver education and educational supports worldwide
 ②Deliver workshops or seminars for educators and students.
 ③Deliver Cross-cultural understanding and communication seminars (in Japan)
(2)Train trainers
 ①For educators in schools or companies
 ②Train senior trainers who train trainers
 ③Can start MBDGs workshops after taking the trainer's course and passed the final exam
 ④Join the worldwide trainer's community
(3)Worldwide Community
  ・Join Facebook group to share information and communicate
(4)Support the next generation
  ・Hold vision events in the future
Who take education?
People who take MBDGs workshops or seminar are…
・the next generation at schools
・employees at companies
・citizens at local
Who deliver MBDGs workshops or seminars?
People who deliver MBDGs as a certified trainers are…
・educators at schools
・employees in charge of staff education at companies
・local trainers at local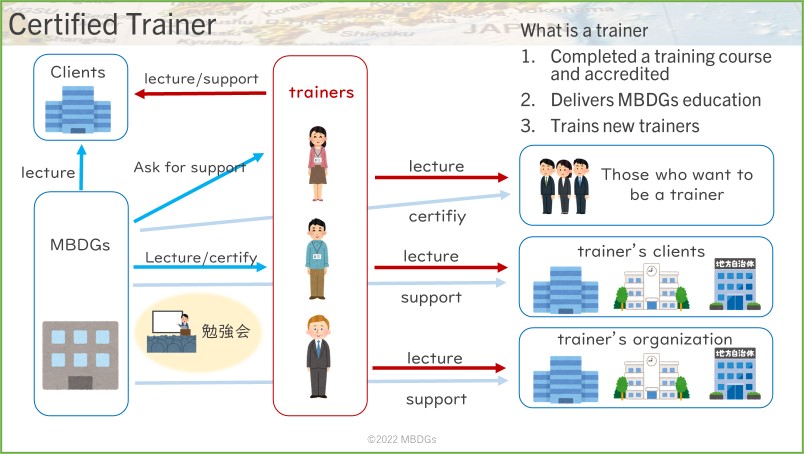 Differences from general mind education.
Self-establishment education
For example, if people are trying to bring out the independence or positiveness of young people or employees, do you ever see such a scene?
The establishment of independence or positiveness is based on the principle of becoming proactive and taking actions.
In order to increase self-esteem, the methodology is to increase self-usefulness awareness (useful to others) and the accumulation of successful experiences.
It omits the most fundamental requirement, self-existence awareness.
Trainers who have not established their own mind foundation, are making it impossible to interact effectively with young people and employees.
As a result,
Positiveness that has been gained temporarily to meet others' expectation keeps them away from sustainable growth and self-reliant mind.
Increasing the amount of action does not proportion to the increase in motivation.
Vision education
Or, for example, if people are trying to elicit vision awareness and action from young people or employees, do you ever see something like this?
The methodology of fostering vision awareness is said to have a vision and goal.
A tendency to value a vision that wishes for the happiness of others as "good"
Vision achievement is based on goal setting and action planning only.
As a result,
Vision harassment moves the young away from visions or dreams.
Fabricated and impromptu visions have become the standard in the organization.
Setting goals and taking action reassures them, and ultimately not motivates them because their fundamental minds are left behind.
This kind of misunderstanding of methodology can also be seen in D&I and Cooperativeness education.
Methodological misunderstanding
Misunderstandings of methodologies have not been emphasized in education until now. However, there is a need to pursue the "sustainability" of the growth and achievements of the human resources themselves who support the development of society. The essence of mind education needs to be emphasized more from now on for the better future.
For example,
The "way to utilize" the feature of good singing is "to become a singer". As a result, those who listen to it are delighted.
The "way to utilize" positiveness or independence is to "take proactive action". As a result, the results are more sustainable.
Seen from the opposite side.
I become a singer because I want to delight people with my songs. The result is divided into two. If I sing well, I can. If I 'm bad at singing, I can't.
The essence is whether I'm good at singing or not in the first place.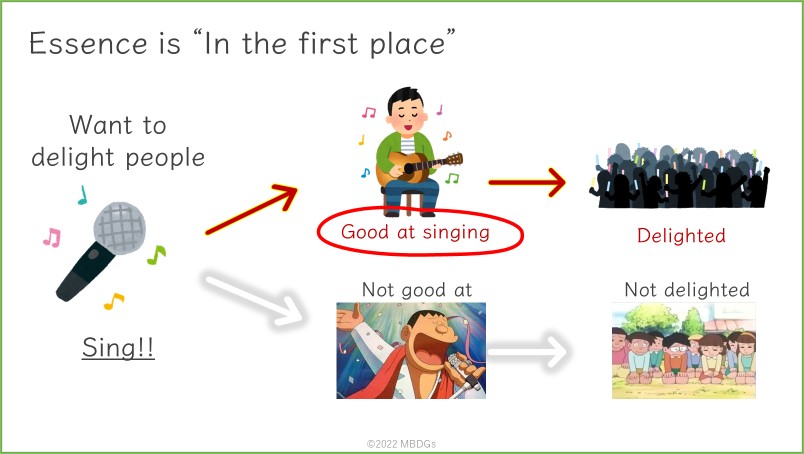 See in the case of positiveness.
I want to produce sustainable results, so I take proactive actions. The results are divided into two. If I have independence and positiveness, it will work. If I don't have them, good results won't last.
Do I have independence or positiveness in the first place? This is the essence. The same goes for vision, D&I, and Cooperativeness.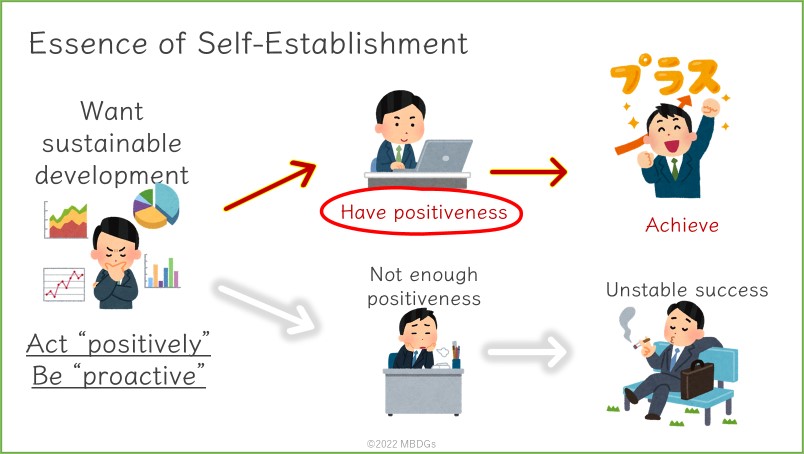 Independence or positiveness are not something that can be acquired from outside, but something comes out from inside. Because it comes out like hot spring, it is sustainable and stable. Appropriate and systematized way to build such a stable mind foundation is MBDGs education.
MBDGs are activities that want to accelerate the educational trend of pursuing the growth of human resources themselves and the "sustainability" of results.
Social background of Japan
Why MBDGs was born in Japan is related with social background of Japan. Here is the research results about Attitudes of young Japanese people from the Perspective of International Comparison Compared to other countries, young people in Japan have lower self-satisfaction, self-efficacy and affirmation. This is thought to be due to the "lack of self-analysis, awareness of looking at the negative, and lack of self-approval" among Japan, not only among young people.
Attitudes of Young Japanese people from the Perspective of International Comparison
Compared to other countries, young people in Japan have lower self-satisfaction, self-efficacy and affirmation. This is thought to be due to the "lack of self-analysis, awareness of looking at the negative, and lack of self-approval" among Japan not only young people.
Question 1: "Are you satisfied with yourself?"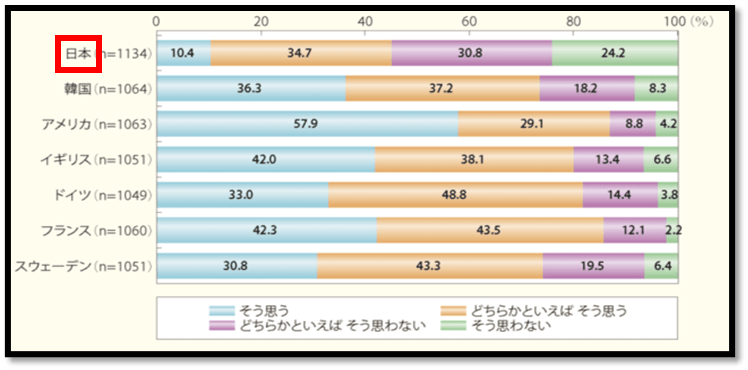 ※出典:内閣府「子供・若者白書」令和元年版特集「日本の若者意識の現状~国際比較からみえてくるもの~」
Question 2: "Do you think you have strengths?"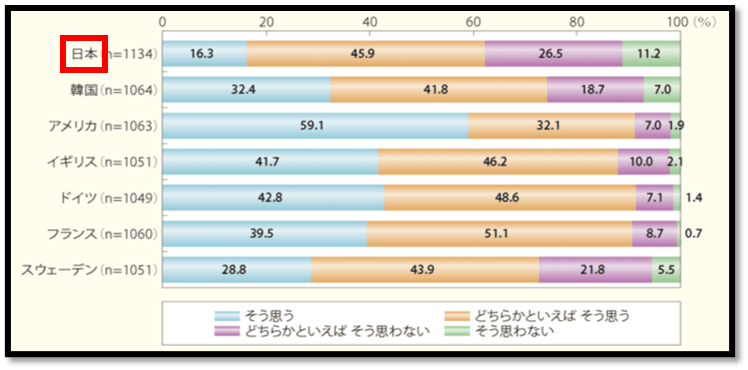 ※出典:内閣府「子供・若者白書」令和元年版特集「日本の若者意識の現状~国際比較からみえてくるもの~」
There is also a low sense of participation in society and the ability to respond to different cultures, which is thought to be due to the "low sense of ownership and acceptance of others" among Japanese people, both young and grownups.
Question 3: "Do you want to be involved in making society better?"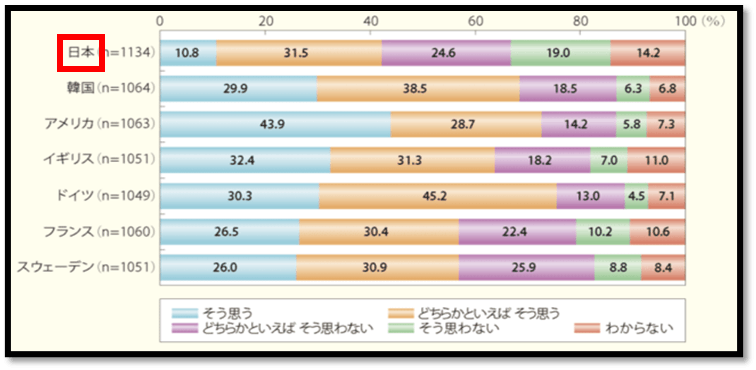 ※出典:内閣府「子供・若者白書」令和元年版特集「日本の若者意識の現状~国際比較からみえてくるもの~」
Question 4: "Do you think you have the ability to understand and respond to different cultures?"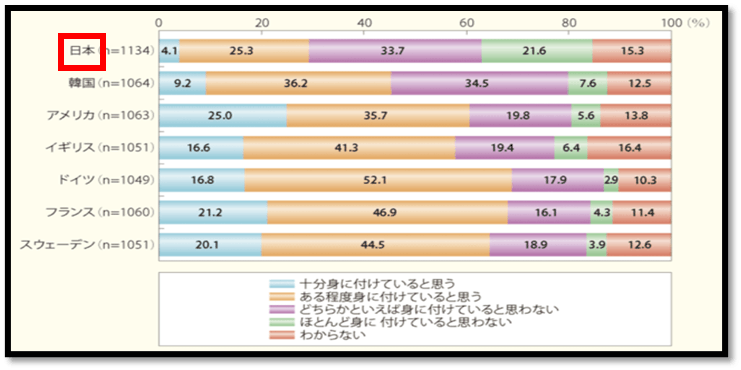 ※出典:内閣府「子供・若者白書」令和元年版特集「日本の若者意識の現状~国際比較からみえてくるもの~」
Some believe that low self-esteem is caused by the way parents' raising (lack of affection), but according to a survey by the Cabinet Office, young people in Japan feel affection from their parents.
Question: "Are you loved by your parents?"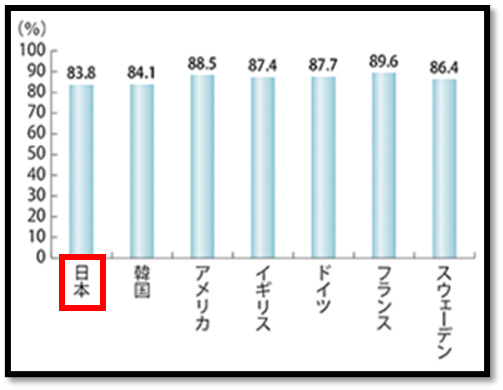 ※出典:内閣府「子供・若者白書」令和元年版特集「日本の若者意識の現状~国際比較からみえてくるもの~」
According to the Cabinet Office's survey conclusions, "Support from families, schools, and communities as one will lead to children and young people becoming aware of their relationship with society and fostering a sense of self-affirmation, thereby contributing to having bright hopes for the future."
In other words, it is important for young people, their families, schools, and communities to understand the importance of well-established mind, and the way to support them, and to have the habit of acquiring self-affirmation. Everything is not about how to educate young people, but how everybody in the society is to be.
And, as mentioned above, self-affirmation (awareness of one's own value and potential through self-understanding and self-approval) is not always obtained by increasing independent action, self-usefulness, or success experiences. It is important to take an appropriate approach based on the establishment of mind.
Lectures for trainers
Trainer's course
  ①Self-Establish
  ②Vision
  ③Diversity and Inclusion
  ④Cooperativeness
  ⑤Cross-Cultural understanding
  ⑥Senior trainer( recommended by MBDGs organization)
Workshops for everybody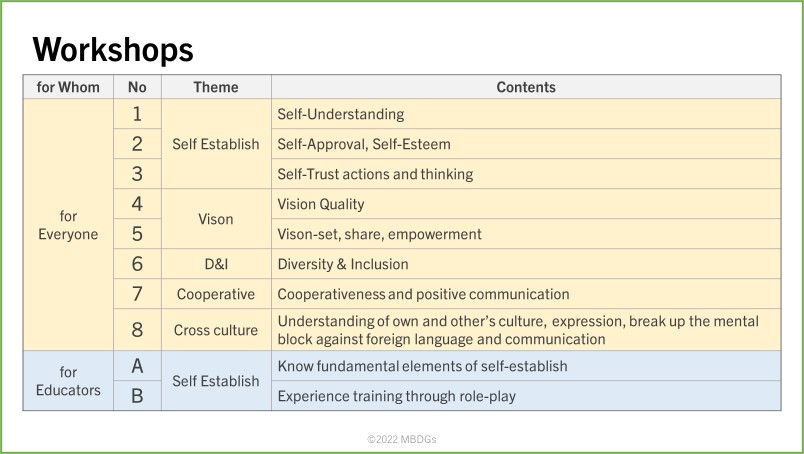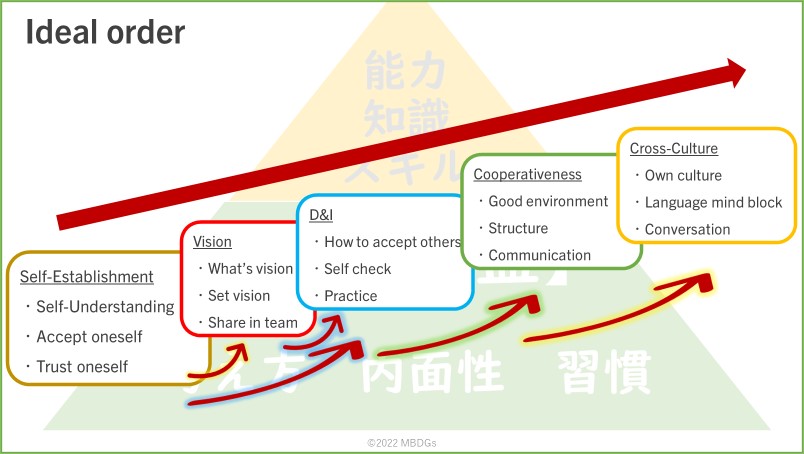 Tangible results
Example1:High school that incorporates MBDGs' seminar
◆Why this school introduced MBDGs?
Passive communication among students (no interaction across grades and club activities)
Students lacked independence and low motivation.
There was unevenness in the quality of the education and passion among the teachers.
Although the school had a policy of fostering global human resources, some teachers felt that there was a shortage of having cross-cultural exchange and English conversation classes only.
◆Start seminars for three years immediately after enrollment
Step.1 Self-Establish/Vision
Step.2 Diversity & Inclusion
Step.3 Cooperativeness & Communication
◆Changes seen in students
Mind
・Active in study and club activities
・Gratitude to those around you
・Be aware of your personality and dreams
・Be aware of your vision and goals
・Acceptance of diverse values
Behavior
・I decided on a career path positively
・Support friends naturally
・I no longer blame people
・Gained the ability to express and communicate.
・I started to keep a diary.
◆Opinions and changes of teachers
・Teachers found that the biggest change is seen in career counseling with the students. Their thoughts and will are enough ready to decide their path.
・Teachers reviewed the way of involvement that draws out students' independence, vision awareness, and cooperativeness.
・Fostered teachers' own independence and vision awareness.
There was a change in the human resource base of each student, and as a result, the teachers were able to improve the school culture and improve expressive skills. In parallel with human resource education, this school conducts initiatives such as SDGs education, learning trips, workplace visits, and community activities.
Example2:A human resources company that incorporates into employee education
◆Why the company introduced basic education?
As the number of foreign staff increased, the issues seen in the awareness of Japanese staff and internal communication could not be solved by cross-cultural education and communication education alone, and training staff were considering initiatives that would lead to the internal growth of the staff.
◆Revamp the training of managers and educators
Step.1 Briefing session on the purpose of reviewing education
Step.2 Self-Establish/Vision education for Japanese staff
Step.3 Diversity & Inclusion/Cross-cultural understanding education for Japanese staff
Step.4 Vision and business communication education for non-Japanese staff
◆Changes seen in employees
Mind
・Humility to review independence
・Acceptance of diverse values
・Raising awareness of vision
Behavior
・Reduced blame and criticism
・We started to care for each other.
・Communication has increased
Task
・When training for management, include the content of basic education.
・Conducted education for accepting foreign staff for Japan staff
・Review the vision of the department and the vision of all educators
Information
1.Want to know more about MBDGs?
Please join the online seminar introducing MBDGs. Follow the events' updates.
2.Want to experience MBDGs education?
Please contact us.
3.Want to become a certified trainer and deliver MBDGs education?
Please contact us.
4.Want to follow MBDGs on SNS?
Please join MBDGs Facebook group page.