In one of the most innovative high schools, a teacher named Shuhei Miyasaka incorporates MBDGs in their Project Based Learning program of Reginal Revitalization.
He learned MBDGs and set the keywords of his teaching and projects Possibility, Challenge, Welcoming difficulties, and Valuing everyone. All these points are from his belief and MBDGs' messages.
He sees the positive changes of his students in positivity, approval of other people, and believing or trusting in themselves.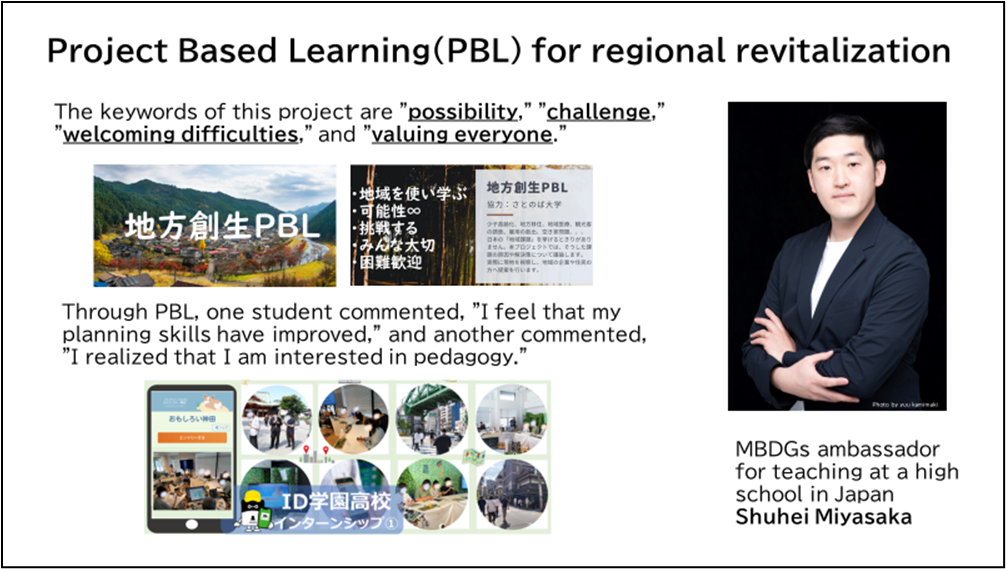 Here is the comments from the school.
I've seen my students growing at an amazing speed. It's like watching tomatoes in a field turn red. MBDGs is an innovative platform with a concept ahead of its time. The margins are left to motivate students and teachers to take on challenges.
The PBL program that we worked on this time was a program that clearly stated the "value" and "potential" that I absorbed in MBDGs as a concept, and was conscious of co-creation that I learned at DICT. I watched up close as students became aware of their own interests and changed their behavior. Without fear of misunderstanding, I am not a student with excellent grades, but rather I feel that I am not good at academics.
"I want to start a business with adults I met in my fieldwork," or "Do you know anyone who has even obtained a doctorate in education?" It was a great learning experience for me to hear these words from them.